Clamp-on Ultrasonic Flow Meter Wall Mounted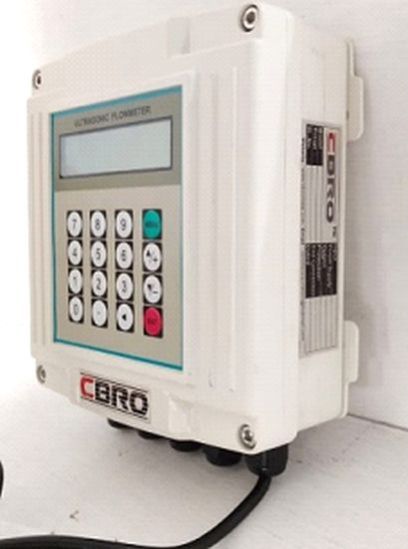 | | |
| --- | --- |
| Business Type | Manufacturer, Exporter, Supplier |
| Brand Name | CBRO |
CBRO make Ultrasonic flow meter works on the Transit Time or Time of Flight principle. The Flow meter unit utilizes two transducers that functions as both Ultrasonic transmitter and receiver. The transducers are either clamped on or inserted to the outside surface of the closed pipes. The transit time flow meter measures the time it takes for an ultrasonic signal transmitted from one transducer to cross the pipe and be received by second transducer. The flow is then measured by comparing the upstream and downstream time of Ultrasonic signal. With no flow through the pipe the transit time would be equal in both directions.
For measuring the Flow of the medium, two ultrasonic pulses are sent through the medium, one in the flow direction and other in the opposite direction. The transit time of the two pulses are then measured. The transit time difference Δt between these two pulses gives the average flow velocity on the propagation path of the Ultrasonic signals. This can be used to obtain the average flow velocity on the cross section of the pipe, which is proportional to the volumetric flow.
Salient Features:
Cost-effective and versatile
High accuracy 1.0% reading
Non-invasive, no moving parts, no pressure drop, no maintenance
Easy and economical installation, no pipe cutting
Wide measurement range 0.2 ~ 12m/s
Wide pipe size range (DN 15 ~ 6000mm)
Suitable for all commonly used pipe materials
Bi-directional measurement. Totaliser display for net, positive and negative flow
Ideal for both clean and opaque liquid flow measurement
Applications:
Chemical, petrochemical and process industries
Fertilizers industries
Pharmaceutical industries
Food and drug industries
Sugar, beverage industries
Paper and pulp industries
Water and waste water management
Dredging industries
Mining industries.
Technical Specifications
Parameters
Specifications
Transmitter
Make
CBRO
Model
UFC250W
Power supply
24 V DC ± 20% 110 V AC ± 15% 240 V AC ± 15% Solar powered
Velocity
±12 m/sec. Bidirectional
Display
2 lines, 16 characters, LCD with backlight, flow rate, velocity, totaliser
Units
User configurable English/Metric
Totaliser
FWD, NET, REV, BATCH (Gallons, ft3, barrels, lbs, m3)
Output
4 – 20 mA DC Std.*
Accuracy
±1% of reading @ rate > 0.5 m/sec. (Optional ±0.5% of reading)
Repeatability
0.2% of Span
Protection class
IP 65, IP 67
Dimensions
251x190x96 mm
Weight
< 2.5 kg
Security
Keypad lockout, access code enabled
Sensor
Suited temp. – Std.
-40oC to 120oC
Suited temp. – High
-40oC to 250oC
Pipe sizeS Sensor
M Sensor
L Sensor
15 – 80 mm
50 – 700 mm
400 – 6000 mm
DimensionsS Sensor
M Sensor
L Sensor
45x30x30 mm
60x45x45 mm
80x70x55 mm
WeightS Sensor
M Sensor
L Sensor
< 0.3 kg
< 0.5 kg
< 1.0 kg
Protection class
IP 65, IP 67, IP 68
Cable length
6 m std. can be extended up to 300 m
Flexible belts
SS belt according to pipe size
Portable case
NA
Looking for "
Clamp-on Ultrasonic Flow Meter Wall Mounted

" ?
Piece