50mm to 350mm Inline Ultrasonic Btu Meter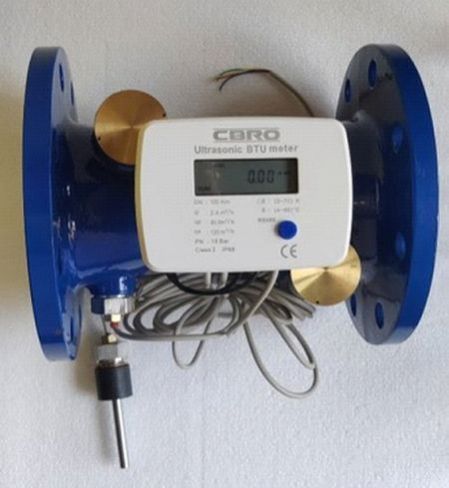 Business Type
Manufacturer, Exporter, Supplier
Make
CBRO
Model
UBM250I-F
Measuring Principle
Transit time difference
Click to view more
Product Details
Mounting
wall mounting, panel, local
Transducer type
clamp-on, spool piece, or insertion
Display
LCD with backlight, 2 x 20 characters 1-line, non-backlit 7 digit LCD (ILD version) Displays energy
Product Code
BTU250 Series
The BTU meter comprises of an ultrasonic flow sensor and two temperature sensors, base on flow rate and differential temperature of supply / return water to calculate the thermal energy consumption. The flow sensor uses ultrasonic flow measuring technology which measures accurately, and not affected by iron rust contained in the flow and external magnetic field. The meter body is made of cast iron, fabricated by hard mould forging, CNC machines, features with good mechanical strength and high accuracy of dimension. Long-term life cycle, stability and accurate operation of the BTU meters are guaranteed. The temperature sensors use PT1000 platinum resistance matched temperature sensing elements to achieve high-accurate temperature measurement in conjunction with a high-accurate AD circuit. The MCU (Microprogrammed Control Unit) selects the MSP430 series ultra-low power microprocessor from American Tl Company, features with strong functions, low power consumption and strong antielectromagnetic interference capability. With self-diagnosis, fault display and power-loss data memory function, the ultrasonic BTU meter will display error code and store current data automatically in case of sudden failure.
The BTU meter is equipped with LCD screen, showing data completely and accurately in convenient and fast way. Real-time built-in clock is used for date recording and display. The BTU meter features with splittable structure (calculator can be removed from meter body and fixed in other location if necessary), protection class IP68, convenient reading, and single button operation.
Reliable for various working environment by: metal body, water proof calculator, shielded signal cable prevent from biting of rats.
High-quality fully enclosed ultrasonic element ensure the accuracy and stability of flow measurement.
Measuring and displaying thermal energy consumption.
Displaying water supply/return temperature.
Displaying differential temperature of supply and return water.
Displaying current flow rate.
No mechanical moving parts, free from possible impact of poor water quality, low maintenance costs.
Low minimum measurable flow rate.
M-BUS / Modbus interface for remote reading function. RS485 optional.
Automatic error diagnosis function to ensure safe and accurate operation.
Can be mounted on supply pipe or return pipe, (specify when ordering).
Technical Specifications
Make
CBRO
Model
UBM250I-F
Size (mm)
50
65
80
100
125
150
200
250
300
Accuracy grade standard
GB/T32224-2015
Flow sensor
Maximum flow rate
30
50
80
120
200
250
500
800
1200
Optimal flow rate
15
25
40
60
100
125
250
400
600
Minimum flow rate
0.6
1
1.6
2.4
4
6
10
16
24
Max. working pressure
16 Bar (231 PSI)
Max. pressure drop
0.25 Bar (36.2 PSI)
Meter body material
Cast steel (stainless steel)
Temperature sensor
Sensing Element
Pt100 / Pt1000
Temperature measurement range
4~95。C (over 100。C needs to be customized)
Signal cable length
3m (6m and 10m optional)
Probe fixing
SS thermowell
Calculator
Differential temperature range
3~70 deg C
Temperature resolution
0.01 deg C
Working temperature
5~55 deg C
Protection class
IP68
LCD display
(8-bit, 10-digit) + special symbol
Data protocol interface
infrared, M-BUS and Modbus (RS485 optional) / Bacnet / GPRS / Wifi
Built-in battery working life
3.6V high-energy lithium battery, theory lifetime more than 8 years / 24 V DC
Looking for "
50mm to 350mm Inline Ultrasonic Btu Meter

" ?
Piece